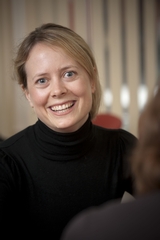 Catherine Amelia Appleton,
Senior Research Fellow
Catherine Appleton is Senior Research Fellow at the Department of Mental Health, NTNU and the Centre of Research and Education in Security, Prisons and Forensic Psychiatry at St Olavs University Hospital, Noway. She is also Research Associate in Law at the School of Law, University of Nottingham, UK. Her research focuses on 'ultimate penalties' and the question of how societies respond to their most serious crimes. Her most recent book, Life Imprisonment  (2019), co-authored with Emeritus Professor Dirk van Zyl Smit, was awarded the 2020 outstanding book awards from both the European Society of Criminology and the Division of International Criminology of the American Society of Criminology. She has acted as expert advisor for Amnesty International, the Helsinki Committee for Armenia, The Norwegian Mission for the Rule of Law in Modolva and the United Nations. She was elected to the Executive Board of Penal Reform International in 2021 and is Co-Director of prisonHEALTH.
Current Projects:
Life Imprisonment Worldwide Revisted
ULTPEN – Indefinite preventive detention: The Implementation and Impact of the ULTimate PENalty in Norway
Catherine Amelia Appleton
Senior Research Fellow
Tilknyttet
NTNU, University of Nottingham
Fagområde
Criminology
Prosjekter
Ytterligere informasjon